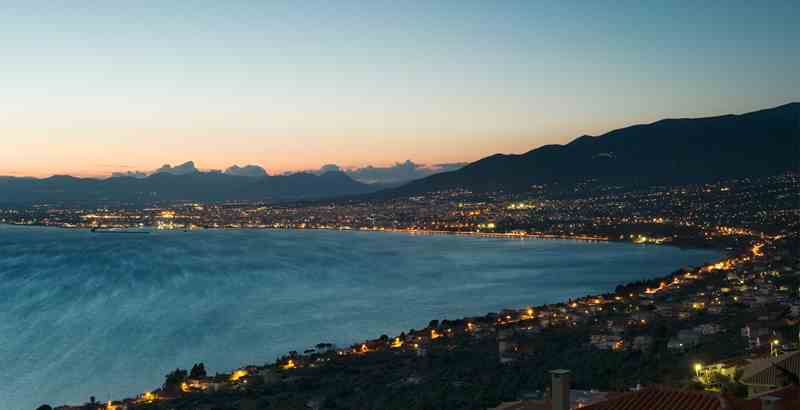 Renting A Car In Kalamata
A Guide for Tourists and Business Travelers Looking to Rent a Car in Kalamata
Welcome to Kalamata, a beautiful city in southern Greece known for its picturesque beaches, stunning natural scenery, and rich history. Whether you're here for business or pleasure, renting a car in Kalamata will help you easily explore the region.
However, choosing the right car rental company in Kalamata and navigating unfamiliar roads can overwhelm travelers. That's why we've compiled this comprehensive guide to help you navigate your way around Kalamata.
Choosing the Right Car Rental Company in Kalamata
Choosing the right car rental company in Kalamata is a crucial decision for any traveler. With so many options available, it's essential to research and compare prices, services, and customer reviews before making a final choice.
Consider the location of the rental company. Choose one conveniently located near Kalamata Airport or your accommodation to save time and hassle.
Check their fleet of cars and ensure they have a vehicle that meets your requirements. Whether you're traveling solo or with family members, make sure they have an appropriate-sized car available.
Read online reviews from previous customers about their experience with the company's service quality to avoid unpleasant surprises upon arrival.
When visiting the city, you'll find a diverse selection of car rental companies available to cater to your transportation needs. To enhance your stay in the city, it's worth exploring more about the various car rental options in Kalamata.
Car Rental Options in Kalamata
Kalamata Airport is a busy hub for tourists and business travelers, and several car rental options are available for those looking to explore the region. Several reputable car rental companies in Kalamata have desks located inside the airport terminal, making it easy to pick up your vehicle as soon as you arrive.
The car rental options onsite include well-known companies such as Hertz, Europcar, Avis, Enterprise, Budget, and Sixt. Each company offers a range of vehicles, from economy cars to luxury models, that cater to different needs and budgets.
If traveling with a group or carrying extra luggage, consider renting an SUV or minivan instead of a small sedan. These larger vehicles provide ample space for passengers and cargo while ensuring comfort during long drives around Kalamata's scenic routes.
Driving Directions from Kalamata Airport
After arriving at Kalamata Airport, consider renting a car to explore the beautiful surrounding areas. The first step is getting directions from the airport to your desired destination.
Driving in Kalamata is relatively easy. From the airport, follow signs for the main road that leads into town. This will take you onto National Road 82, which connects Kalamata with other major cities like Athens and Patras.
Once on National Road 82, continue straight until you reach your desired exit or turnoff. Most destinations around Kalamata are clearly marked with informative signage, making it easy for tourists and business travelers to navigate.
It's important to note that Greek drivers can be quite aggressive, so it's best to drive cautiously and defensively, especially when navigating unfamiliar roads. Keep an eye out for pedestrians since they tend not to adhere strictly to traffic rules.
Whether you're headed towards beaches or the ancient ruins of Greece, having a rental vehicle provides convenient transportation options and scenic drives through picturesque landscapes across Kalamata and its surrounding regions.
Benefits of Renting a Car in Kalamata
Renting a car provides convenience since most rental companies now allow online reservations, which means no waiting time upon arrival at Kalamata Airport, saving precious vacation time for exploration instead of logistics planning.
It allows you to explore the region at your own pace without worrying about public transport schedules or organized tours. You can stop and take photos wherever and whenever you want.
Renting a car in Kalamata is often more cost-effective than booking multiple taxis or private transfers if you plan on visiting several destinations during your trip. Many rental companies offer competitive rates, including insurance coverage and unlimited mileage.
It also gives you the flexibility to travel to locations that are not accessible by public transport. This allows for a unique experience of exploring the local culture and traditions.
Having a vehicle means you don't have to worry about carrying heavy luggage while navigating crowded buses or trains. With a rental car, all your belongings are safely stored in one place.
What are the requirements for foreigners to rent a car in Kalamata?
It's always recommended that foreigners research their selected rental company beforehand and read up on any additional requirements specific to them. This extra step ensures smooth processing when picking up the vehicle.
It's also essential to provide all necessary documentation, such as proof of insurance coverage or travel documents, such as a passport or visa. Please present these documents to ensure access or delays getting the vehicle.
Suppose you are a foreign traveler outside of the EU zone. In that case, you must have a valid driver's license from your home country and an International Driving Permit (IDP). The IDP is a translation of your original license and is required by Greek law. You only need a valid driver's license from the EU zone.
Learn more on how to obtain an International Driving Permit to drive in Greece.
Additionally, most rental companies will require that the driver be at least 21 years old, with some requiring drivers to be at least 25 years old. The maximum rental age is usually 75. It's also important to note that some rental companies may require a credit card for security purposes.
What are the payment options for renting a car in Kalamata?
Knowing what payment options are available before choosing a car rental company in Kalamata is important to ensure you have the right payment on hand and avoid any delays or complications during pick-up.
Most rental car companies accept major credit cards such as Visa, MasterCard, and American Express. Debit cards may also be accepted but check with your rental company beforehand.
It is important to note that when using a debit card, the rental company may place a hold on funds in your account until the vehicle is returned. This can tie up your funds for several days, so use a credit card instead.
Other payment options may be available. However, not all car rental companies accept these forms of payment, so it's best to check ahead of time.
Some car rental companies in Kalamata offer online payments through their website or mobile app, which can be convenient for those who prefer digital transactions.
Tips for Avoiding Fees or Charges When Renting a Car in Kalamata
When renting a car, there are several fees and charges that you should be aware of. Here are some tips to consider before renting a car to avoid unexpected expenses.
Reading the rental agreement carefully before signing anything is important. Make sure you understand all the terms and conditions, including any additional fees or charges that may apply.
Another tip is to return the car on time. Late returns can incur extra charges and affect your ability to rent from that company.
Make sure you fill-up the gas tank before returning the vehicle. Rental companies often charge inflated prices for fuel if they have to refill it themselves.
If you plan on crossing islands with your rental car, check with the company beforehand, as there may be additional fees or restrictions.
Inspect the vehicle thoroughly before driving off. Please take note of any scratches or damage already present and inform the rental company so they don't try to charge you for them later on.
Frequently Asked Questions for Foreigners Renting a Car in Kalamata
Foreigners planning to rent a car may have questions about the process and requirements. Here are some frequently asked questions and answers to help you prepare for your rental experience.
Q: What documents must I provide when renting a car?
A: You will need a valid driver's license, passport or ID card, and a credit card. Your driver's license must be written in English or accompanied by an official translation.
Q: Can I use my debit card to rent a car?
A: Most rental companies require a credit card for security purposes, but some may accept debit cards with certain conditions.
Q: Do I need insurance for my rental car?
A: There are several types of optional insurance coverage available when renting a vehicle in Greece, including collision damage waiver (CDW), theft protection, personal accident insurance, and enhanced CDW. The CDW and larceny are optional and will be included at a discount for advance purchase if the inclusive rate is chosen.
What to do when driving as a foreigner for the first time?
Driving in a foreign country for the first time can be nerve-wracking. With some preparation and caution, it can also be an exciting experience. Here are some tips to remember when driving as a foreigner for the first time.
Before hitting the road, familiarize yourself with local traffic laws and regulations. In Greece, for example, you drive on the right side of the road and overtake on the left. Also, note that wearing seat belts is mandatory for all passengers in both front and back seats.
In Greece, motorists drive on the right side of the road and pass on the left, which may require some adjustment if you are accustomed to driving on the left.
The national highway speed limit is 130 kilometers per hour (80 miles per hour). If you are traveling on a main road outside of a built-up area, the speed limit is between 90km/h and 110km/h, whereas in built-up areas, the speed limit is between 50km/h and 70km/h.
Another important thing to remember is to carry your driver's license at all times while driving. Suppose you're from outside of Europe or North America. In that case, you'll need an International Driving Permit (IDP) and your home country driver's license.
Adjust to any differences between local roads and those you're used to. For instance, Greek drivers often honk their horns to say hello or express frustration.
Ensure you have a GPS device or map handy before starting on unfamiliar roads. And remember parking - always check signs carefully before leaving your car parked somewhere new.
What are the parking and traffic regulations?
When driving in Kalamata, knowing the parking and traffic regulations is important. The city has various designated parking zones for both residents and visitors.
If you plan on renting a car, ask your rental company where you can park your vehicle without getting ticketed or towed. It's also worth noting that some areas may have time limits for parked cars, so check signage before leaving your car unattended.
Regarding traffic regulations, it's essential to remember that Greece follows the right-hand side driving system. Additionally, drivers must always wear seatbelts while driving and adhere to speed limits posted on road signs.
It's also important to note that distracted driving is illegal in Greece. This includes using mobile phones while driving or eating behind the wheel.
Aside from these basic rules, drivers should also be mindful of pedestrians who often cross roads outside designated crosswalks. Always keep an eye out when turning corners or approaching intersections.
There are numerous parking facilities available in the city to meet your needs. See more available parking options in Kalamata.
What to do if you're involved in a traffic accident?
Being involved in a traffic accident can be a scary and stressful experience, especially if you are in a foreign country. Suppose you find yourself in this situation while driving in Kalamata. In that case, there are several steps you should take to ensure your safety and protect your interests.
Check on the well-being of everyone involved and seek medical attention if necessary. Move your vehicle out of the way of traffic to avoid causing any further accidents or blockages on the road. Exchange contact details with any other parties involved, including their insurance information.
Take photographs of the damage caused to all vehicles involved and any surrounding areas that may have been impacted by the accident. You may be advised to file an accident report with local authorities within 24 hours if damages exceed €500.
If renting a car from a reputable company such as those located in Kalamata, they will have procedures for handling accidents outlined in their rental agreement, which must be followed accordingly.
Remember to remain calm throughout the process and contact emergency services or your travel insurance provider for further assistance.
What to do if you're stopped by the traffic police?
Remember that being pulled over does not necessarily mean that something bad has happened; it could just be a routine check-up or spot-check. By staying calm and respectful during this process, both parties will feel more comfortable with one another.
If you're driving in Kalamata and get stopped by the traffic police, there are a few things to remember. Firstly, remain calm and polite at all times. The officer may ask for your driver's license, car registration documents, or proof of insurance.
It's important to have these documents readily available so that you can present them when asked. If you don't have them, explain the situation honestly and respectfully.
If the officer cites you for a violation, understand what you've done wrong and how much the fine will cost. You can pay on the spot or receive instructions on where to pay later.
In some cases, if there is a language barrier between yourself and the officer, they may call for an interpreter. This is nothing to worry about - cooperate as best as possible.
What are the transport alternatives to renting a car in Kalamata?
While renting a car is the most convenient option for tourists and business travelers, other transportation alternatives are available in Kalamata. One popular option is taking a taxi from the airport to your destination. Taxis are readily available outside the airport terminal, and fares can be negotiated with the driver beforehand.
Another alternative is to take public transportation such as buses or trains. The KTEL bus service runs throughout the Messinia region. It provides affordable transport options for those exploring beyond Kalamata city limits. Alternatively, you can take a train from Kalamata Railway station, which connects major cities across Greece, including Athens.
For those who prefer more adventurous modes of transportation, renting bicycles or scooters could be an attractive option. Many rental shops offer affordable daily rates, allowing visitors to explore the city independently.
Walking around town is also an excellent way to experience all that Kalamata offers firsthand. Many popular attractions are within walking distance of each other and provide great opportunities for sightseeing while getting some exercise along the way.
Whether you prefer the affordability and convenience of buses, the efficiency of trains, or the flexibility of taxis, Kalamata offers a variety of ways to get around the city. Discover various transportation alternatives in Kalamata.
What are the must-see attractions I can visit using a rental car in Kalamata?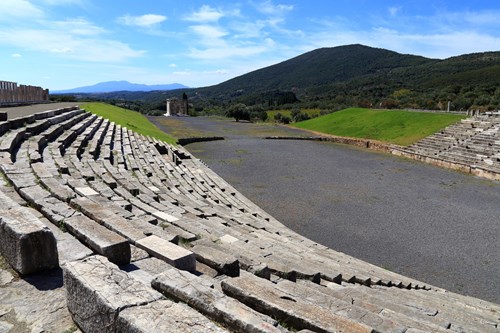 Kalamata has a rich history and culture, making it an ideal tourist destination. Visitors can explore the ancient ruins of Messene, just 40 minutes away from Kalamata, by car. This archaeological site boasts well-preserved Greek and Roman structures such as the impressive arena, stadium, and theater.
For those looking to soak up some sun while enjoying picturesque sea views, the beaches in Kalamata are to be noticed. The most popular ones are Almyros Beach and Mikri Mantineia Beach - perfect for swimming or lounging under an umbrella.
The Benakeion Archaeological Museum in Kalamata houses artifacts from prehistoric times until Byzantine. Art lovers will appreciate touring the Municipal Art Gallery, which features works by local artists and international pieces from various periods.
Another must-see attraction is Stoupa Village, situated near Kardamili. This charming village has two beautiful sandy beaches with crystal-clear water suitable for swimming or snorkeling.
A trip to Kalamata would only be completed by visiting Taygetos Mountain Range, around 30 km from downtown. It offers breathtaking natural scenery, including deep gorges, pristine forests, wildflowers meadows, and peaks over 2000 meters high, providing hikers a challenging but rewarding experience.
Experience the enchanting tourist destinations in Kalamata, where breathtaking natural beauty, gorgeous beaches, and significant cultural landmarks combine to offer an unforgettable experience for visitors. Discover more information about in Kalamata tourism offerings.
What types of accommodation are available in Kalamata?
Hotel prices in Kalamata vary greatly, depending on the location and amenities of each establishment. Accommodations range from budget-friendly guest houses to luxury resorts. Standard double rooms typically start around $60 per night, while more luxurious options can cost upwards of $150 per night.
Many hotels also offer discounted rates for extended stays or during low-season months such as September through May. Additionally, many hotels have special packages available that include meals and activities for a discounted price.
To book a hotel or to compare prices, see more information about the best accommodations in Kalamata.
UNBEATABLE VALUE CAR RENTAL

FREE
Amendments,
FREE
Cancellations,
NO
card fees!

airport_shuttle Need Airport Transfers?
Useful Information about Kalamata Airport