Kalamata Airport Departures (KLX)
Not all flights may be showing. If not available use search above to find your flight by airline, airport or flight number.
Destination
Airline
Flight no.
Scheduled
Est./Actual
Status
No flight departures were found at Kalamata Airport.
Flight Departures at Kalamata Airport
Kalamata International Airport is relatively small when compared to other airports and as a result, it is a good idea to be aware of what is and isn't available airside before checking-in. Please remember to collect your belongings from your means of transfer to the airport.
Transferring to Kalamata Airport
Rental Cars – Please follow the instructions for returning the rented vehicle to the rental car company at Kalamata Airport. Remember to collect your belongings from the vehicle and check it for damage before returning it.
Buses – There are frequent bus services between Kalamata and the airport during day time, with less frequency during the weekends than on weekdays. There are also a few routes from other towns/villages, but they operate less frequently and some only once a week. During the winter season there are fewer connections and departures.
Taxis – Taxis will drop passengers off in front of the Kalamata terminal building. From there it is easy to navigate as the airport is very small.
Airport Shuttles – Many hotels offer to arrange a shuttle transfer to the airport upon request and at an additional fee. In some cases it is organized by the travel agency. If your hotel does not offer an airport transfer service, you can search for a door-to-door transfer to Kalamata Airport here.
Parking at Kalamata Airport
The 60 parking spaces available at the airport parking lot in front of the terminal are for short term parking only and parking is not allowed overnight here. For long term parking, valet parking and other alternatives there are several options for off airport parking in the nearby area.
Smoking at Kalamata Airport
Smoking is only allowed outside the terminal entrances on the landside.
The Terminal at Kalamata Airport
The airport has a single one story terminal housing a checking hall, two arrivals halls and two departures halls.
Its opening hours vary from day to day in relation to how the flights are scheduled. Some days it is closed during the day, exactly when and for how long varies as does the time for opening in the morning and closing in the evening. The airport is always closed during night time.
Food and beverage at Kalamata Airport
There is one coffee shop/snack bar in the checking hall area when entering the airport terminal, and one in the departures area once passed the security control.
Shopping at Kalamata Airport
A small Duty Free shop can be found on the airside available to departing travelers.
Staying overnight at Kalamata Airport
As the airport closes during night there is no possibility to stay there overnight. There are several hotels in the nearby area, some offer hotel/airport shuttle service at an additional fee.
Lounges at Kalamata Airport
The airport has no lounges available for travelers.
Luggage storage at Kalamata Airport
There is nowhere to store any luggage or belongings at the airport.
Was your flight delayed or cancelled?
You may be eligible to receive up to 600 EUR compensation per person in your party..
Claim Now!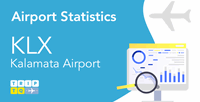 Kalamata Airport Passenger Traffic Down 16.77% in Q3 2023, Still Below Pre-Pandemic Levels