Kalamata Airport Arrivals (KLX)
Not all flights may be showing. If not available use search above to find your flight by airline, airport or flight number.
Origin
Airline
Flight no.
Scheduled
Est./Actual
Status
No flight arrivals were found at Kalamata Airport.
Flight Arrivals at Kalamata Airport
It is always good to have an idea of an airport before arriving, especially when it is a small airport like Kalamata International Airport. Before exiting airside please make sure to collect your entire luggage from the baggage claim area.
The Terminal at Kalamata International Airport
The airport has a single one story terminal with one checking hall, two arrivals halls and two departures halls serving domestic and international travelers.
During the summer the airport is open every day, but the opening hours vary during the different periods of the summer. Some days the airport closes for an hour or two in the middle of the day, at what time and for how long varies, and on some days it opens early on other days later, and the same with the closing time. This is because the opening hours are related to scheduled flight times. During the winter season the airport only opens for the occasional flights that operate to or from the airport.
The airport is always closed at night.
Transfers at Kalamata International Airport
Rental Cars – There are many car rental companies at Kalamata Airport - a few of them have desks in the arrivals halls while others are located off-airport. It is advised to pre-organize the rental before arrival.
Buses – The bus route between Kalamata and the airport is operated by KTEL Messinias. The buses run several times a day during high season, with less frequency during the weekends and no departures in the evening. There are also bus routes to a few other places in the area, but with less frequency, some only once a week. The bus to Kalamata costs 1-3€ and takes 15 minutes.
Taxis – Taking a taxi to Kalamata center from the airport costs around 25€ and takes 10 minutes. Taxis can be found at the taxi ranks outside the terminal, but it can be chaotic during peak hours and it is recommended to arrange for the taxi in advance if you don't want to risk waiting for a taxi.
Hotel Shuttles – Some hotels organize transfers for their guests to move between the airport and the hotel. These are usually arranged by the travel agency or the hotel in advance and upon request and at an additional cost. See availability and costs to arrange a Kalamata Airport transfer to any local hotel.
Smoking at Kalamata International Airport
Smoking is only allowed outside on landside, outside the terminal building.
ATMs and currency exchange at Kalamata International Airport
It is unclear if there are any services for currency exchange or any ATMs available at the airport. Make sure to have cash available upon arrival for your transfer.
Staying overnight at Kalamata International Airport
Since the airport is closed at night the possibility to stay overnight there doesn't exist.
Luggage storage at Kalamata International Airport
There are no lockers or luggage storage available at the airport.
Food and beverage at Kalamata International Airport
There is one snack bar/coffee shop in the checking hall area, available to all visitors, and one in the departures area for passengers that have cleared the security control.
Shopping at Kalamata International Airport
There is a very small Duty Free shop located on the airside available to departing travelers that have passed through the security check.
Lounges at Kalamata International Airport
There are no airport lounges available at the airport.
Parking at Kalamata International Airport
There are 60 parking spaces for short term use only available in front of the terminal. It is not allowed to park there overnight as the airport is closed. There are off airport parking options for both long and short term parking available.
Was your flight delayed or cancelled?
You may be eligible to receive up to 600 EUR compensation per person in your party..
Claim Now!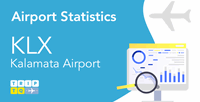 Kalamata Airport Passenger Traffic Down 16.77% in Q3 2023, Still Below Pre-Pandemic Levels